About the Producer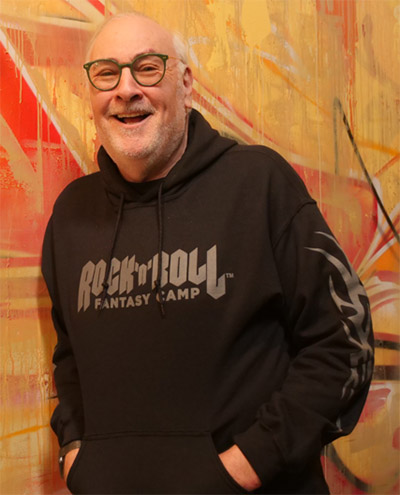 David Fishof, a pioneering producer in the world of entertainment, has been hailed as one of the most creative and innovative forces in the industry. Over his 45-year career, Fishof has produced tours, organized Rock n' Roll Fantasy Camps, and authored best-selling books. His unique productions, lauded for their originality and success, have set the stage alight countless times. Among his myriad productions, Rock 'N' Roll Fantasy Camp is a standout. After working with rock legends such as Roger Daltrey, Ringo Starr, The Monkees, Levon Helm, Joe Walsh, and many other top rockers, Fishof was inspired to share his unique experiences with rock fans worldwide. Thus, in 1997, he launched the Rock n' Roll Camp, a place where everyday people could reconnect with their passion for music alongside the biggest names in the industry.
A quarter-century later, the camp has provided over 7,000 people from around the globe the opportunity to live their rock star dreams. The camp has enabled participants to meet and jam with musical idols such as Joe Perry, Roger Daltrey, Gene Simmons, Nancy Wilson, the late Jeff Beck, and over 250 touring rock stars at legendary venues like Abbey Road Studios in London, Whisky a Go Go in Hollywood, and the Atlantis resort in the Bahamas.
In July 2010, Fishof partnered with TV producer Mark Burnett to co-produce a reality series on VH1 Classic titled "Rock and Roll Fantasy Camp," which ran for two seasons. January 2021 saw the release of Rock Camp, a documentary by Academy Award winner Doug Blush, which chronicles the history of the Rock 'N' Roll Fantasy Camp. This documentary, now streaming on Amazon Prime and Rotten Tomatoes, has received four-star reviews and a rating above 90%.
When the COVID-19 pandemic struck, Fishof swiftly pivoted from live camps to launching the successful Rock Camp Master Class program on Zoom. This program allowed participants to interact with rock legends such as Alice Cooper, The Scorpions, STYX, Sebastian Bach, and over one hundred and sixty of today's top touring musicians.
Now, the live camps have made a triumphant return, fulfilling new waves of campers' dreams. Last year, Fishof expanded the offerings to include a "Songwriting" Fantasy Camp with hitmaker Desmond Child, and a "Women's Only" Rock Camp, featuring artists like Melissa Etheridge, Nancy Wilson, Wynonna, and Lzzy Hale.
In 2023, FOX-TV announced a reality and comedy series based on the Rock n Roll Fantasy Camp, produced in-house by Fox Entertainment Studios. That same year, Fishof, in partnership with Adam Carolla, announced the launch of the first-ever "Comedy" Fantasy Camp, featuring Carolla, Jay Leno, and many of today's top comics and TV comedic writers.
Aside from founding Rock 'N' Roll Fantasy Camp, Fishof's career highlights include reuniting The Monkees for a blockbuster reunion tour in 1986, producing "Dirty Dancing: The Concert Tour", "Dick Clark's American Bandstand Tour", "The Happy Together Tours", "American Gladiators Live Tour", and "The British Rock Symphony", which featured Roger Daltrey, Alice Cooper, and Jon Anderson. Fishof also collaborated with Ringo Starr to create the All Starr Band and has produced eight All Star Band tours over its fifteen-year existence.
Beyond the music industry, Fishof's early career spanned the sports world for two decades. He represented sporting legends such as NFL greats Phil Simms, Mark Bavaro, Vince Ferragamo, and Jack "Hacksaw" Reynolds, along with baseball stars Lou Piniella, Dave Magadan, and Randy Myers.
Fishof has authored best-selling books such as "Putting It On The Line" and "Rock Your Business", both Amazon best sellers. He has also been a featured speaker at the National Speakers Association. In November 2022, he released his third book, "Rock Camp: An Oral History, 25 Years of the Rock 'N' Roll Fantasy Camp".
Fishof is featured in the Netflix series "Muscles and Mayhem", the unauthorized story of the American Gladiators, where he discusses the Rock Camp (Episode 4). You can also learn more about him in the Rock Camp movie available on Amazon Prime./p>
David currently resides in Los Angeles and takes immense pride in his family: he is a father of five, grandfather of eight, and a devoted husband to Karen Finkel.
Fox Drums Up 'Rock Camp' Comedy In The Works From Steve Basilone, Jeff Rowe & David Fishof
Fox is developing single-camera comedy Rock Camp from The Goldbergs co-exec producer Steve Basilone, Jeff Rowe and David Fishof, founder of Rock and Roll Fantasy Camp. The project follows a down on his luck rock star, who after a series of screw-ups, begrudgingly goes to teach at Rock Camp — a summer camp where anyone can live out their fantasy of shredding next to their favorite rockers — in order to satisfy a court mandate and save his reputation. Basilone, who has also written on Community and The Michael J. Fox Show, will write and will exec produce alongside Rowe, and Fishof. Fishof started Rock and Roll Fantasy Camp after having worked with Ringo Starr, Roger Daltrey, The Monkees, Joe Walsh and Peter Frampton. He launched it in 1997 and has put more than 6,000 folks through their rock star dreams. He also previously teamed with Mark Burnett to produce a reality series for VH1 that ran for two seasons. Rowe is an advisor to Rock and Roll Fantasy Camp and producer on a recent documentary about it. Rock Camp is produced by Fox Entertainment Studios, which was established to produce its own series in-house.